Coast Hwy Traders philosophy is to bring local artists all under one roof- creating a world bazaar of vendors. One of those talented local artists is Rena Yarbrough Howe. Her beautiful custom jewelry is truly one of kind.
Rena has been an artist since she was small. She learned silver smithing from her mother at about 14 years old and she has always been attracted to gemstones and beads of all kinds.
Rena is a certified gemologist.
Rena developed a new line of metaphysically purposed talisman necklaces.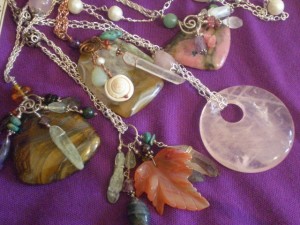 Each necklace has been designed to utilize the metaphysical aspects of natural stones. Each has a specific purpose which is carefully explained on a card and attached to each necklace. These attractive necklaces can be purchased at Coast Hwy Traders.
Rena is not only creative but loves to "re-purpose" old silver, silverware, and old gems. She used her old sterling silver(pic below) her mother had been saving for years and Recycled it into…..her new line (see below). She took apart some of the old silver pieces and added pearls and fine gemstones.
Rena is an incredible talent and her jewelry is breathtaking…come down to Coast Hwy Traders to see her latest works.