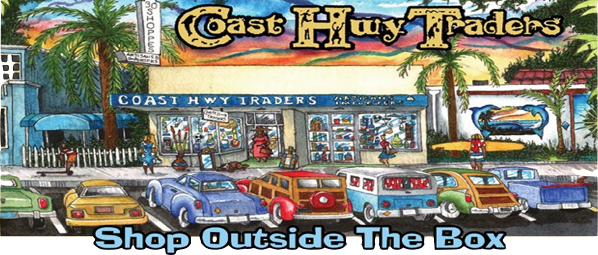 Coast Hwy Traders Tour of Buying

We have a wonderful selection of merchandise personally hand selected from all over the world and an amazing array of handmade creations made by local artists.
Day of the Dead/  Mexican Folk Art/  Mexican Pottery

Beverly Goodman is the owner of Coast Hwy Traders. The store began as a way for Beverly to showcase her love of Mexican folk art. Over the last 19 years she has developed relationships with many masters of Mexican folk art. These unique relationships are what allows her to bring to you, the customer, truly remarkable works of art. The variety of merchandise is unlike any other store in San Diego. Bev's collection of Mexican Folk Art, Ortega Ceramics, Day of the Dead, Lady of Guadalupe and Milagros are truly extraordinary.
 We have beautiful wood Lacquered boxes (pictured above) by Francis Rodriquez. Coast Hwy Traders has a large collection of religious icons (pictured below) including Saints, Our Lady of Guadalupe, and The Madonna on statues and paintings and candles.
Coast Hwy Traders carries Grand Master Pottery from Tonala. Our amazing Mexican Pottery is all hand crafted and unique.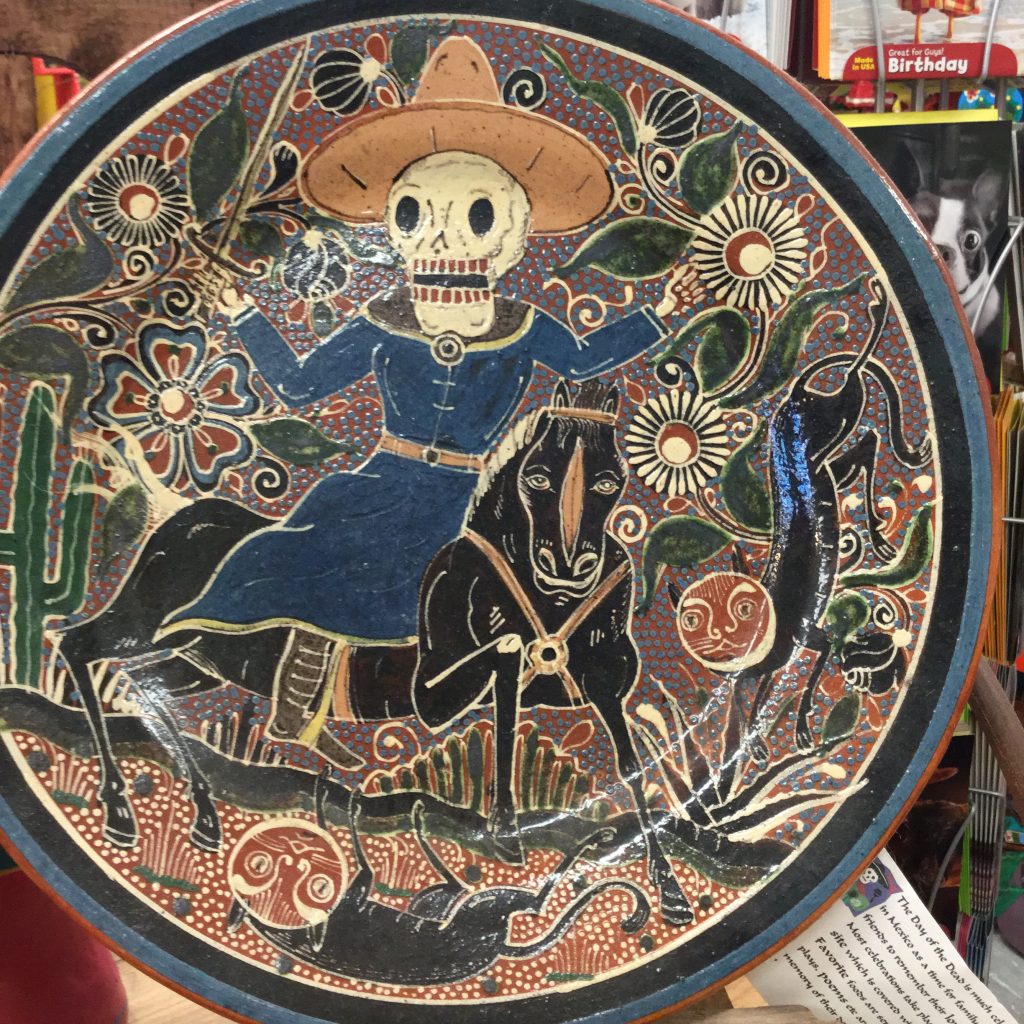 beautiful metal art
Milagros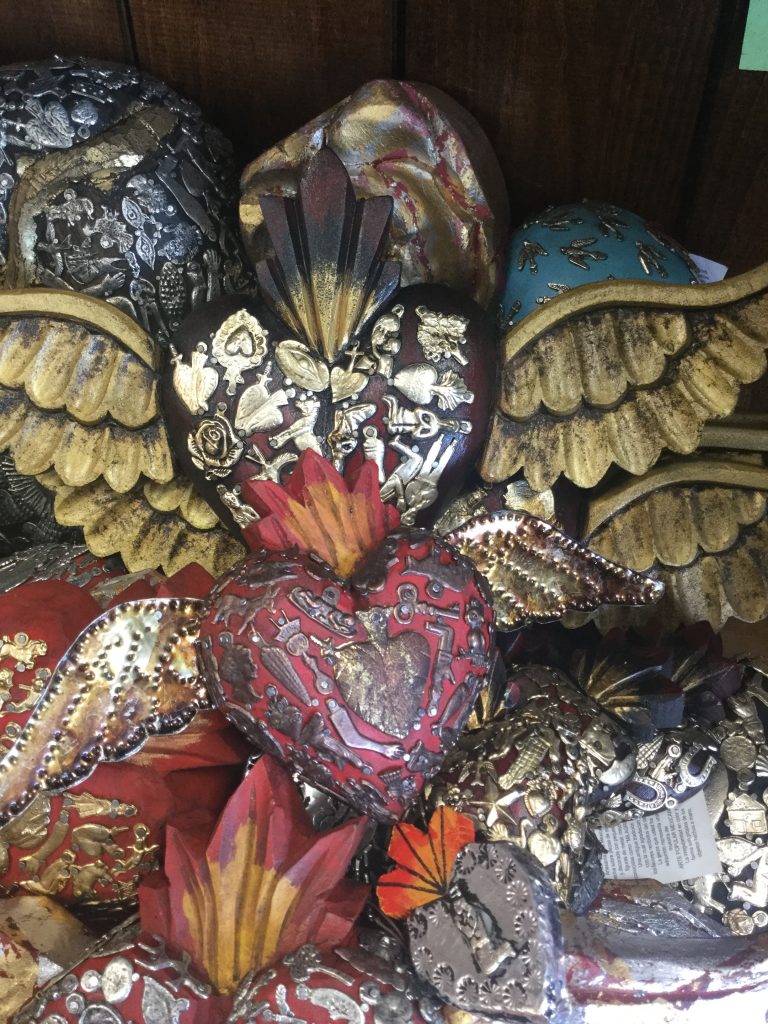 Hand Blown Glassware
Day of the Dead Merchandise……The Best Selection in San Diego County
Handmade wooden chair
Day of the Dead Calacas (skeletons)
Day of the Dead Section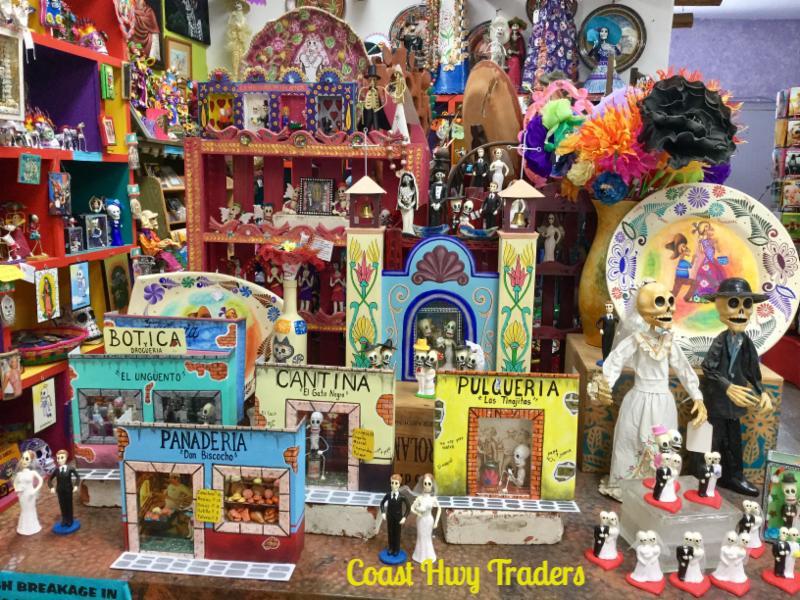 Leather Purses
Fun Frida Kahlo Merchandise
Handmade Ceramics by the Ortega's
Trees of Life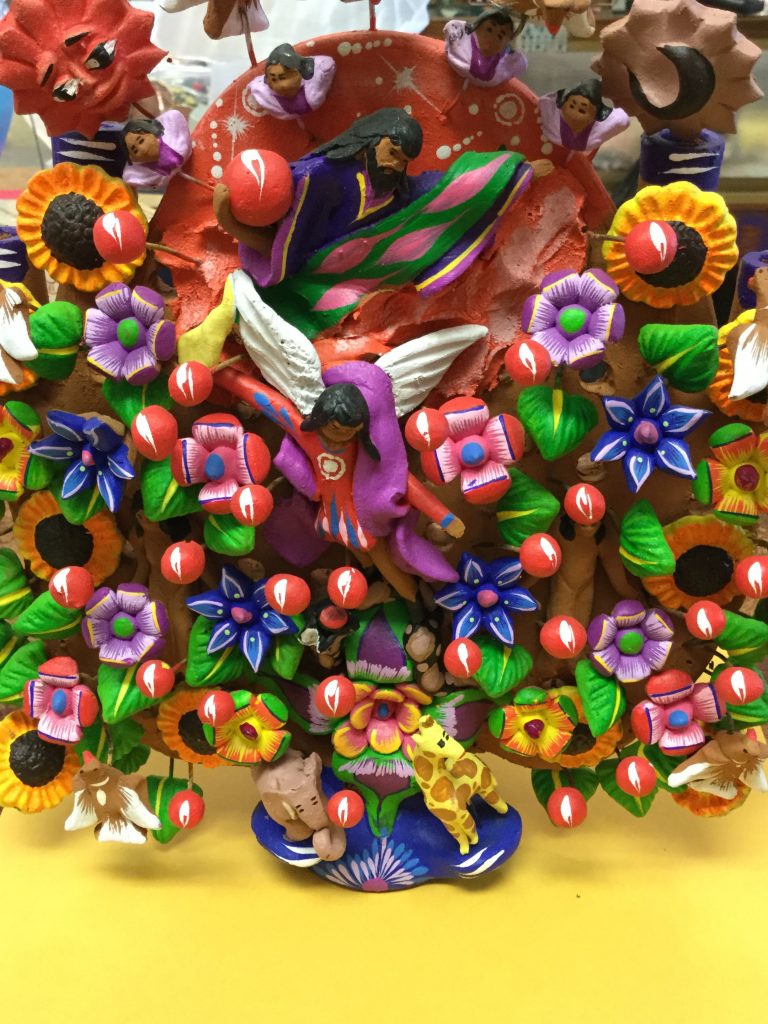 Alan Casagrande…..
Local Artist

Alan Casagrande of Bongo Bay Studios……Local Artist
Alan Graduated from the Hollywood Art Center and is a member of the Scree Cartoonists Union. His customers are world wide and he has been featured in books on surf art. Alan's mediums are watercolors, acrylics, pen and ink and pastels. His work has that coastal "cool" feel and with so much color you cannot help but smile when looking at his artwork. All the frames around his artwork also handcrafted by him too.
Coast Hwy Traders is excited to have a new section and vendor. Deep has amazing  nepal clothes, singing bowls, incense ,hanging lanterns, bedspreads, saris, and colorful fabric.
Debra Taramasco……
Baggallini / Laurel Burch / Mermaids

Debra Taramasco has traveled to Guatemala for many years finding wonderful beaded jewelry as well as handbags and clothes. She brings these amazing items to her section at Coast Hwy Traders.
Deb also sells Baggallini. This is a great line of handbags and luggage designed by flight attendants who know how many pockets we women need and where to put them!
Her Laurel Burch collection features, handbags, scarves, cards and umbrellas. Amazing color and fun designs for any occasion.
Deb also has a whimsical mermaid section. Her mermaids are darling and a big hit with Moms and little girls.
Rena Howe…..
Local Jewelry Artist / Mosaics / Wind Chimes


Rena Howe is an artist extraordinaire. She has been making jewelry and crafts for over 30 years. She is always coming up with new ideas and designs. She loves to create one of a kind jewelry using seed pearls, chez glass, copper and silver.
This year she started making wind chimes from wine bottles. Her mosaics are beautiful including her cross mosaics,
they always sell out fast.
Catherine Duval ……..
Feminine Clothing

Catherine Duval has an eye for fashion having been in the business for over 25 years. Her lacy scarves and feminine clothing are a hit with everyone.
"My Clothes have a French Flair"…..Catherine
Anne De Meyer……..Bico Jewelry
Anne De Meyer carries an extensive line of Bico jewelry. Bico jewelry was founded in Australia in 1995. The designs are based on iconic and universal symbols,designed to reflect individuality personal identity and style. The pieces are all unisex and made from high grade pewter, fine silver, brass, and authentic Swarovski crystals.
Lisa De Luca…….Hat Section

Lisa De Luca learned about hats from her mother who made beautiful hats. Her mother was one of our first vendors in the store. The hat section has hats for men and women. Everything from beach hats to fancy hats for the races and tea parties.
Ann Russel……Hankie Pankie Aprons

Ann Russel is a master creative sewer. She uses Mexican fabrics to create darling aprons, dish towels, sachets and skirts. Her love of vintage Mexican shoes and clothes has led to some terrific finds. Her tooled vintage leather shoes are a best seller.
Vintage Mexican Clothes
Gorgeous Shoes
Handmade Dishtowels
Handmade Aprons…..These are not your Mother's Traditional Aprons!
Handmade Sachets…..They look and smell wonderful!
Kathy Dulmage………Fine Glass and Seashell Statues

Seashell Mermaid
Kathy Dulmage has a love of fine glass and stained glass. In her section you will fine beautiful hand blown pieces by local artists. She also has wonderful seashell and rock turtles and mermaids. In her section you will find beautiful cement statues for your garden too.
Stain glass Butterfly's
Seashell Turtle
Nancy Pudlo……Succulent Gardens

Nancy Pudlo has a green thumb! She makes wonderful succulent gardens, but her creativity does not stop there. She also makes magnets and is known for her dot tins.
Roya Parviz….Satori Designs

Roya Parviz of Satori designs has beautiful clothes that are lacy and crocheted. Her designs are girly, feminine and sexy.  Her clothes change seasonally so check out the Satori Designs section often.
Sandra Porst…….Russian and Turkish Art

nesting doll
Sandra Porst loves Russian and Turkish art. As a former flight attendant with DELTA she made many connections over the years. This  allows her to bring beautiful nesting dolls, artwork and more to Coast Hwy Traders. She has recently added beautiful raku pieces made by an artist in El Cajon.
Raku Piece
wooden pieces
Steve & Juanita……Bejeweled Sandals

Need new sandals for summer?? Steve and Juanita have glitzy bejeweled sandals.
They are perfect for the beach or out to dinner. They carry sizes 5 to 11.
No visit to Encinitas is complete without a few seashells. John has hundreds of seashells in his section. Like to hear the ocean away from home? he has beautiful large conch shells to do just that. John has seashell chimes, mirror frames , holiday ornaments and so much more. I love the fact that he hires families in Mexico to make all his shell items.
Damodar……Lucky Bamboo and Money Plants

Damodar who shares a space with Deep (the Napalese section) has lucky bamboo, money plants and tie dyed baby clothes.
Alex Montes…..Tourist Section

Alex Montes has our tourist section with lots of t-shirts for adults as well as kids. He sells the popular Baja jackets from Mexico. Of course being near the beach he has loads of sunglasses.
If you have any questions about any of the merchandise

on this page please feel free to email me at

mexart@cox.net